PDA Sport Stats® - Tennis© is a feature rich software that collects tennis match data and generates detailed match statistics. It allows tennis players of all levels, coaches and tennis parents to visualize, analyze and manage tennis matches in order to improve their game.
PDA Sport Stats - Tennis currently runs on the Sharp Zaurus SL-5500 (shown), but it was just ported to Palms OS. It fits in your pocket and allows you to collect every point of a tennis match by simply tapping your stylus on the appropriate tennis stroke field.
PDA Sport Stats - Tennis software keeps the score and produces statistics on serve and stroke effectiveness for both player's performance evaluation. Statistics from stored files let you compare previous matches and can be uploaded to a PC for other uses.

The software also generates match or set statistics in the html format which can be displayed on Zaurus SL-5500 or uploaded to a PC for archiving, E-mailing or posting on a Web site.

Click on the images for larger picture.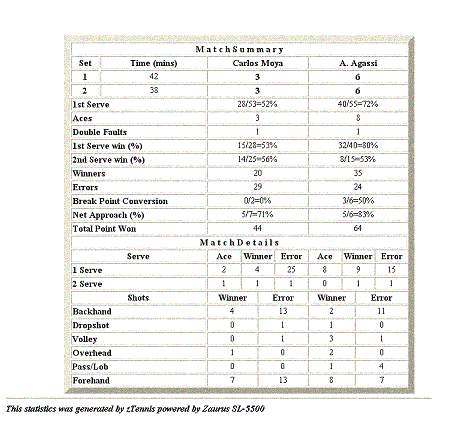 e-mail: tennis@PDASportStats.com